Welcome to Action Fishing Adventures – Boca Grande Tarpon Fishing Charters!
Action Fishing Adventures is the premier Boca Grande Tarpon fishing charter service specializing in tarpon fishing trips guided by Capt. Mike Manning, who is known to be one of the best tarpon fishing guides on the west coast of Florida.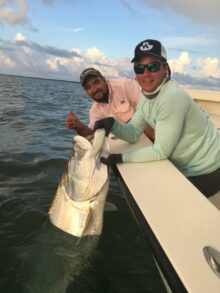 Capt. Mike targets giant tarpon From March to November and smaller juvenile tarpon the rest of the year. We fish world famous Boca Grande, Charlotte Harbor, the big Pass, and Pine Island Sound in pursuit of these enormous tarpon.
Capt. Mike Manning is a full time fishing guide and a Florida native who has been a tarpon fishing guide for over 25 years. Capt. Mike has turned his lifelong passion of chasing tarpon as a career, helping hundreds of anglers achieve tarpon success. When it comes to Boca Grand tarpon charters, not only do you need a good guide, but you need the proper equipment and a boat made specifically for tarpon fishing. We provide the best fishing tackle money can buy, and fish from a 24 foot Avenger with a tower, two trolling motors, and Raymarine Electronics. This boat is not just any boat its made just for chasing tarpon. It's the boat almost all fishing guides on the West coast of Florida wants. It's safe, dry riding, and comfortable.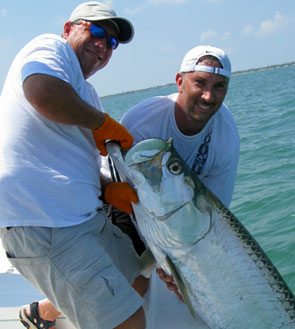 Although we primarily fish out of Boca Grande, we can make arragments with advanced notice to provide tarpon charters in Tampa Bay and Clearwater as well.
Call 727-243-8918 now or click below to book your next Tarpon Fishing Charter with Capt. Mike of Action Fishing Adventures!
Why choose Boca Grande?
Because it's the tarpon capital of the world and its the largest spawning spot for the species in the world, so there are more tarpon in the these waters than anywhere else. The more fish, the better the odds you will catch one! The Silver Kings come for the deep water, strong tides, and abundance of crabs and baitfish. To read more about the history of tarpon fishing in Boca Grande, click here.
Why choose Capt. Mike?
USCG Captain Licensed and Insured
Fishing Over 250 days [er year
Florida native
Member of Boca Grande Guides Association
Tarpon specialist
Full-time Professional fishing guide
Tarpon fishing in Boca Grande, Florida
Fishing the Tampa Bay and surrounding areas
Tarpon-snook-redfish-spotted sea trout
Rotary International member
Perfect Trip Advisor Score
Boca Grande garpon guide now booking 2023 Tarpon Season
Call: 727-243-8918
Email: [email protected]
A Full-time Licensed Florida Charter Fishing Captain