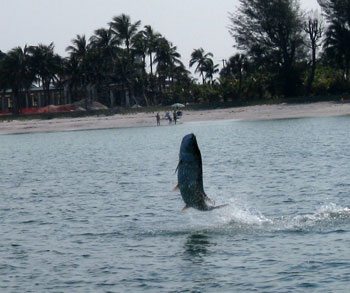 Tarpon Fishing
The Boca Grande area of Florida is the best area in the world for tarpon fishing. Tarpon are one of the largest gamefish that roam the shallow flats. The fish (also known as the "silverking") are one of the most powerful fish, pound for pound, in the world.
Not only are they powerful, they make spectacular jumps. On just about every hook-up there will be a display of acrobatic jumps. There is nothing like it when bright silver "SILVERKING" weighing anywhere from 100 to 200 pounds clears the water by six feet.
We catch these mighty silverkings on tarpon fishing charters in Boca Grande and several different areas along the West Coast. On our charters, we catch these fish several different ways. These techniques include sight fishing with artificial lures to live bait fishing with threadfins and blue crabs.
For anglers trying to beat Florida's hot summer days, our night tarpon fishing charters around local bridges is a great alternative while fighting your trophy silverking.
During cooler months, juvenile tarpon can be caught in local rivers and residential canals. These fish range from 10 to 40 pounds. When using 8 to 10 pound test tackle these fish are real tackle busters.
---
More Information about Tarpon / Megalops Atlanticus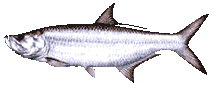 It is easy to see why tarpon fishing in Florida is so addictive. Tarpon grow very large and are plentiful. They also take a wide variety of baits, lures and flies. The fight of a hooked tarpon is a truly awesome experience in the world of sport fishing.
Where to find Tarpon
Tarpon range in warmer saltwater areas from Virginia to South America. They have a year round presence the center portion of this range, most notable in Florida. Tarpon in the upper and lower extremes of their range tend to migrate to reach preferred water temperatures. This explains why tarpon are often caught along well-established migration routes. Tarpon are long-lived species that can grow incredibly large. Many tarpon are over 200 pounds. With the current all tackle world record standing at 283 pounds, 4 ounces. There have been a number of fish seen that would easily top the 300 pound mark. The 300 pound tarpon is one of the Holy Grail of salt-water fishing. It is still sought by a number of fanatical sportsmen.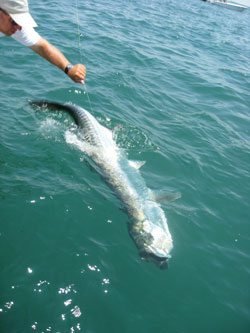 Small tarpon are found just about anywhere that warm water and brackish estuaries exist. Small tarpon are occasionally found in land locked lakes such as those found in south Florida. The fish are limited in size due to the lack of food available. It is not known how the fish got to those areas.
The Tamiami Trail in south Florida is a good example of prime habitat. The "Trail" as it is called locally was built in the early part of the century by a crew that dug a ditch from Miami to what would years later become Marco Island. The spoil from the ditch was piled next to the dredge to form the roadbed. The ditch from this project still exists today and is full of small tarpon. This is a great place for those who like to cast from shore and try their luck at tarpon fishing. Similarly the numerous creed and bays of the Everglades National Park have miles of mangrove shorelines and are prime spots to search for your small tarpon.
As tarpon mature they move out onto open water flats and often congregate in large schools. Bays inlets and intercostals waterways in Florida are all areas that have a good number of schooling fish. These mid-sized fish are numerous along many coastal bays on the shorelines of the Gulf of Mexico.
GROUND ZERO for tarpon fishing is Boca Grande Pass on the West coast of Florida. This deep water pass is the primary opening into Charlotte Harbor and lies between the southern point of Gasparilla Island and the northern shore of Cayo Costa Island. Large amounts of water flow in and out of this pass and carry with it huge amount of food for the tarpon that arrive by the thousands. The fish begin to show up in early April and congregate in the 80-foot deep hole just off the tip of Gasparilla Island. Tarpon continue showing up in the pass feeding on the thousands of small crab that flow out to the Gulf from Charlotte Harbor. With the arrival of the tarpon comes the arrival of the tarpon fishermen eager to tangle with one of the great silverkings.
Boca Grande has become a very popular place to fish during this time. Each year seems to get more popular. It is a very exciting place during the tarpon season due to the number of fish in the pass. Schools containing hundred of tarpon will roll beside your boat. The atmosphere in the pass is electric when the bite is on with as many as 20 fish being fought at the same time. Boca Grande offers the best opportunities for anglers to catch a giant tarpon.
Call 727-243-8918 to book your next tarpon fishing charter today!