Boca Grande is the tarpon capital of the world for a reason.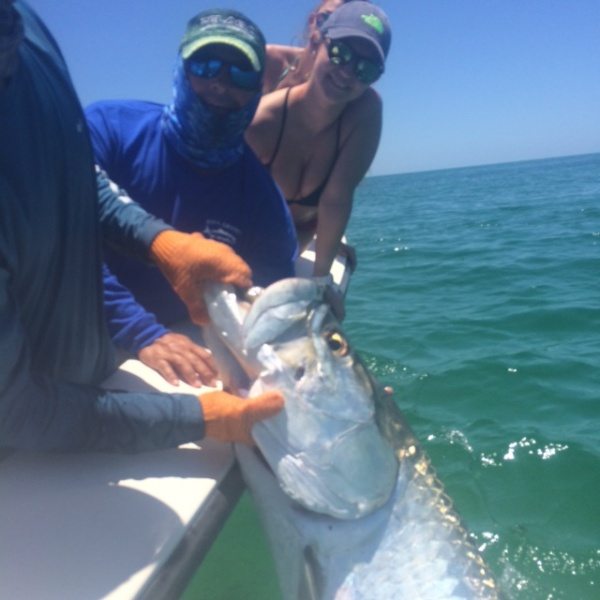 There are more tarpon in and around Boca Grande from March to October than anywhere else in the world. From Mid April till the end of July is when the giant migratory schools of tarpon invade the Boca Grande & Charlotte Harbor area. There are thousands and thousands of tarpon that migrate thru the Boca Grande pass during this time frame. These tarpon come to the Boca Grande area for a few reasons, but one of the main reasons is to gather for their annual spawn. Another reason is for the large crab flush during our summer moon tides. The 5 to 6 days around the full and new moon the pass crabs get sucked out from the back country flats on the strong outgoing tides. Tarpon love crabs so it's just natural for them to come for the free feast!
Boca Grande is also the deepest natural pass on the west coast of Florida. Why is this important? Well that means it's not man made pass such as the shipping channel in Tampa Bay, or other small passes up and down the west coast of Florida. This deep pass in Boca Grande has been their for thousands of years and maybe millions of years. Tarpon have been around for millions of year, and are one of the oldest fish that swims in our oceans. Maybe one of the reasons they have been around so longis they are a creature of habit and return every year at just about the same time. They have learned there is plenty of food and safety in and around the deepest natural pass on the west coast.
Why should you choose Boca Grande Florida for your tarpon fishing expedition?
Think of Boca Grande as a New York City, only for fish. It is the most densely populated location for tarpon in the summer. The more fish there are, means opportunity to catch your giant tarpon, period. I see it all the time where tarpon guides from Tampa, Clearwater, St, Pete, Sarasota, Fort Myers, and Naples have to bring their clients to Boca Grande to try and catch tarpon. So saying you might think well not a big deal to switch locations. It is a big deal because that means you might have to change your hotel at last minute or have to get up two hours earlier to make the drive. The biggest problem is your guide is going to drag you somewhere that he has not been fishing everyday, and that will affect your success at catching that trophy tarpon.
So, if you are visiting Florida or you want to come to Florida to catch a giant tarpon please consider tarpon fishing in Boca Grandeit's well worth the drive for the fish of a life time. Call Captain Mike today to reserve your tarpon charter for a fishing trip to remember!