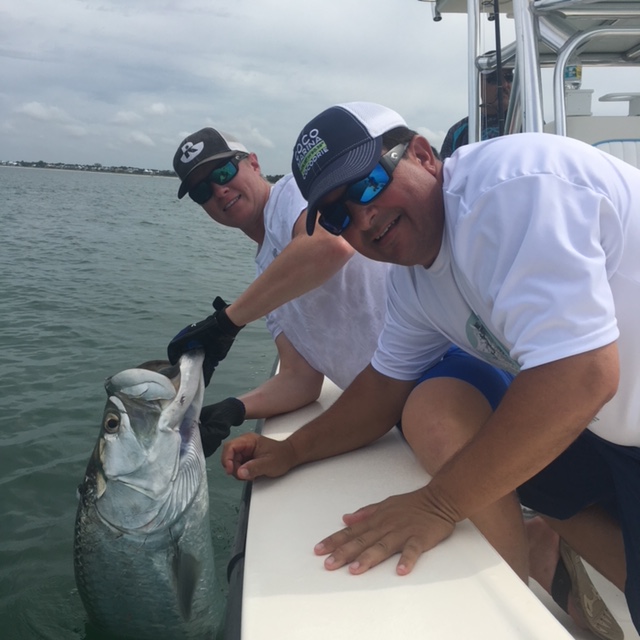 NOW BOOKING BOCA GRANDE TARPON FISHING CHARTERS FOR THE 2020 SEASON!
Our tarpon fishing Boca Grande fl charters range in pricing, as we have numerous options & packages. We offer: 4 hour, 6 hour, 8 hour, and all day tarpon charters.
Give us a call or fill out our contact form below to let us know how long & what days you would like to reserve a fishing charter, and we will work together to create the tarpon fishing trip of your dreams!
Why Boca Grande?
Boca Grande is considered the tarpon fishing capital of the world for many reasons. From roughly mid-April to mid-July, hundreds of thousands of tarpon will migrate through the Charlotte Harbor area and the Boca Grande Pass. The giant tarpon that pass through weight up to 200 pounds each and are a challenge & thrill to catch! On an average day during our tarpon fishing charters, you can expect to see thousands of tarpon. What a sight that is to see! A day of tarpon fishing in Boca Grande with Action Fishing Adventures averages 8 to 12 tarpon hookups with some days up to 20 hookups.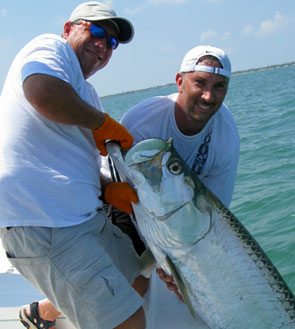 A little area Tarpon Fishing History
The tarpon fishing in the Boca Grande area started in the late 1800s from row boats and has become one of the most popular destinations for fisherman around the world. Read more about the history of tarpon fishing in Boca Grande here!
I do everything I possibly can to catch my clients as many tarpon as we can on every Boca Grande tarpon fishing charter. My goal on every charter is for my clients to have a blast catching giant tarpon in safe and ethical manor. I want you and your party to go home with sore arms and tell your family and friends what a great time you had tarpon fishing with Capt. Mike Manning.
How to catch tarpon in Boca Grande:
The Beaches: Tarpon fishing the beaches is not fishing from the beach. What we mean is there are several schools of tarpon that travel north and south along the beaches of the west coast of Florida. This is my favorite way of tarpon fishing in Boca Grande. This method is the most exciting way of catching tarpon you will ever experience. You will actually sight cast to the schools of tarpon and sometimes watch them eat your bait. When you are fishing along the beaches, the tarpon jump more and make longer runs due to the shallower water.
The Harbor: The harbor is the area east of the Boca Grande pass and all the way up to Port Charlotte. We catch these tarpon a few different ways also from sight casting live baits to large schools of tarpon to sight casting to single fish with artificial baits. The harbor is a very productive tarpon fishing area from late March till late October. When the tarpon are in large schools in the harbor the fishing is very similar to fishing the beaches. You get to sight-cast live bait to these large schools of tarpon and watch them eat you bait. At other times in the harbor the tarpon are spread out and we cast artificial lures at singles or slow-troll live baits using a trolling motor.A Boca Grande tarpon whipped and ready for release at the boat.
The Sound: The sound is south of Boca Grande on the inter coastal water way. Again, we catch these tarpon several different ways such as live bait, artificial baits, and dead baiting. Tarpon fishing in the sound with live bait and artificial baits is done the same way as on the beaches and in the harbor. The dead bait tarpon fishing method can be very productive. We catch or buy some type of bait like mullet, mackerel, catfish, or other type of bait fish. We get in an area where we are seeing some tarpon and anchor up and put the dead bait out on the bottom. Tarpon are scavengers and will eat just about anything they can fit in their mouth. Sometimes using this method we will catch some giant sharks.
The Pass: Tarpon fishing in the big pass offers the deepest natural pass on the west coast of Florida. This pass is one of the main reasons the tarpon migrate to the Boca Grande area. It has fast-moving current with a large supply of bait fish and crabs. There are a few different ways of Boca Grande tarpon fishing in the pass, such as the traditional way by drifting the pass with live bait. Back in the late 1980s several guides came up with the the idea of fishing with artificial lures like 4-oz jig head and a plastic 4-inch swim tail. Both of these methods are very productive when it comes to tarpon fishing. The down side of Boca Grande tarpon fishing in the pass is the crowds on certain days. Some days it's not very busy and other days there can be over 100 boats in the pass.
So, now you see there are several ways and places to do tarpon fishing in the Boca Grande area. This is why it's very important to pick the right tarpon fishing guide. There are several guides in the area, but very few who fish all the different areas the tarpon congregate. For over 20 years I have been a tarpon fishing guide in Boca Grande and I pride myself as one of the best tarpon guides in the state of Florida. Not only have I put thousands of clients on tarpon, I have been hired by other GUIDES to teach them my methods. So, if you are looking to catch a giant tarpon, I am the man that will put you on them.
E-mail Capt. Mike or call 727-243-8918 today to book your next tarpon fishing charter!