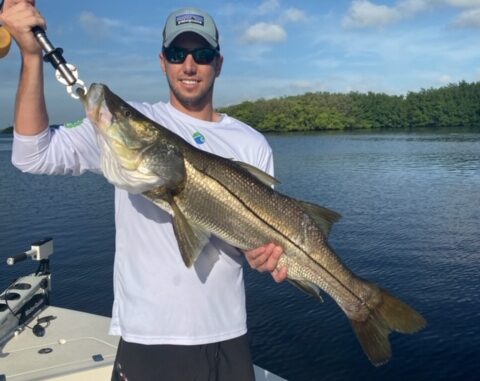 Big snook are on the prowl.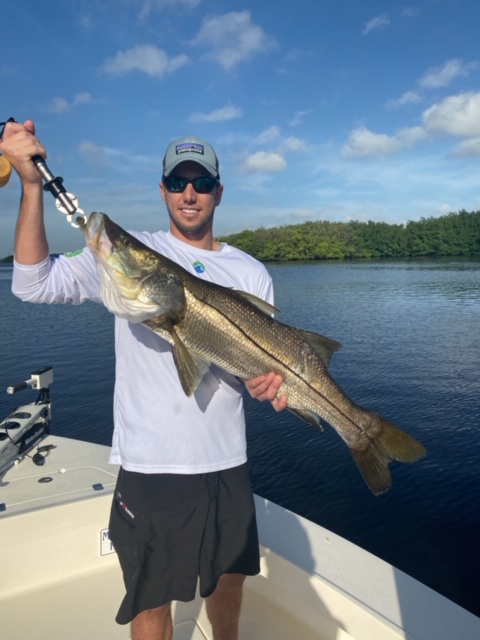 The big females are hanging around the creek mouths, mangroves and points, fattening up after the summer spawn. They'll be moving into the rivers and well into warmer backwaters in the weeks ahead, but until then, we'll be seeing some of the best snook fishing of the year, some years fall snooking is even better than spring and this just may be one of those years if catches like the one seen hear tell us anything.
Live sardines are the snook candy that gets the big ones, but artificials are effective, as well, particularly as the water cools, the fish are hungry and they have the energy to chase a plug, jig or soft jerk bait.
There's been a lot of freshwater in the backwaters, creeks and rivers, and while snook are tolerant of freshwater, they still like to be close to the saltier environment, so we're finding them just outside the creeks and around the river mouths. We'll be following them deep into the backwaters as the season progresses, but for now there are plenty of fish still on the outside, and right now odds are good of finding big fish.
Action Fishing Adventures
Capt. Mike Manning
Local & Outside the United States: 727-243-8918
Office: 941-460-6889